Mango Airlines is one of South Africa's most frequented low-cost airlines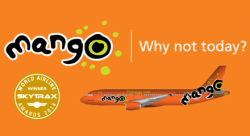 Mango airlines is owned by South African Airways, the country's largest air travel provider. It launched on the 15th of November 2006 and has the distinction of being South Africa's first low-cost airline. Mango flights bookings are popular with South African travelers as well as visitors from abroad who require comfortable and affordable domestic flights at competitive prices. Mango Air is sometimes referred to as Fly Mango or Flymango.

Get cheaper flights with Mango specials
For many passengers, Mango Airline is definitely the one of the most popular choice of airlines, continually launching many specials which appeal to the average traveler. These specials included the previously popular R1 fare, and more recently the Happy Days Sale which has been a massive success.
Since its inception, Mango Airline bookings has become a firm favorite with the travelers of South Africa across all races, ages, and income brackets. With Mango Airlines you experience simply what you require – a ticket to catch a plane that is going to take you to where you essentially want to go. However FlyMango is also able to offer incredibly affordable pricing on domestic flights which basically ensures that you are never paying too much for nothing more than a quick little cheap mango flight to Cape Town or a visit to family in Johannesburg.
Besides offering some of the most competitive prices on the domestic flights market, Mango Airlines also offer some of the best prices moving along some of the major airline routes, so that if you're just a simple businessman who's just looking to move between Cape Town and Johannesburg a few of times over the course of a month, then this is definitely the airline you want, at the price they're offering.
In our endeavors to bring you the cheapest Mango Flights online, we are continuously monitoring thousands of flights daily. Below you will see the cheapest flights we have found so far this year.

Mango Airlines One-way Routes Flight Prices
Prices based on live searches up till 28 Mar 12:00 and are subject to change.
Mango Airlines Return Routes Flight Prices
Prices based on live searches up till 28 Mar 12:00 and are subject to change.
Mango Flights – Available routes
It's hard to miss the big bright 'orange bird' landing or taking off from South Africa's major airports. Whether you want to escape the City of Gold's rat race and head for the Cape Winelands or the warm ocean of Kwa-Zulu Natal or visit the friendly city of Port Elizabeth, you'll find a Mango flight to cover your need. The airline also services George and Bloemfontein not forgetting the exquisite island of Zanzibar with two weekly flights.
Mango offers flights departing from 7 South African airports as well as flights to and from Zanzibar. The airports on Mango airline's routes include:
Departure City
Durban
Durban
Durban
Cape Town
Cape Town
Cape Town
Cape Town
OR Tambo – Johannesburg
OR Tambo – Johannesburg
OR Tambo – Johannesburg
OR Tambo – Johannesburg
OR Tambo – Johannesburg
Bloemfontein
George
Lanseria
Lanseria
Port Elizabeth
Zanzibar
Airport Code
DUR
DUR
DUR
CPT
CPT
CPT
CPT
JNB
JNB
JNB
JNB
JNB
BFN
GRJ
HLA
HLA
PLZ
ZLZ
Arrival City
Cape Town
Lanseria
OR Tambo
Bloemfontein
Durban
Lanseria
OR Tambo
Cape Town
Durban
George
Port Elizabeth
Zanzibar
Cape Town
OR Tambo
Cape Town
Durban
OR Tambo
OR Tambo
Airport Code
CPT
HLA
JNB
BFN
DUR
HLA
JNB
CPT
DUR
GRJ
PLZ
ZNZ
CPT
JNB
CPT
DUR
JNB
JNB
Mango Airline's Baggage Allowance

Every Mango Airline's passenger has a free baggage allowance of 20 kilograms as standard. Mango Plus guests are allowed an added 10 kilograms giving them a total 30 kg baggage allowance. Infants have a free baggage allowance of 10 kg. Additional weight on Mango flights will be charged at the current excess baggage rate. No luggage exceeding a weight of 32kg will be accepted onboard a flight. Carry-on baggage is subject to the following restrictions:
Not exceed 115 cm (56 cm + 36 cm + 23 cm)
Not exceed one bag at 7 kg's.
In addition to carry-on baggage, you may carry aboard a handbag and overcoat whilst guests with infants seated on their laps, may also carry a small bag catering for the in-flight needs of the infant (i.e. feeding bottles, nappies and medication).
You must not include in your baggage toy guns, cutlery, knives, scissors, syringes, blades, nail clippers or other sharp objects that appears to be/could be used as weapons.
Failure to adhere to the Carry-on baggage restrictions is in violation of CAT-OPS-121 Civil Aviations If your baggage is lost or damaged, please notify a Mango representative at the airport.
Carry-On Baggage
To ensure you have a pleasurable and safe flight, new baggage allowances were implemented early this year. Economy class travellers are allowed one single item weighing up to 7kg with dimensions of 36x23x56cm, additionally you may take a handbag or slim-line laptop bag. However, if you miscalculated and your carry-on baggage exceeds the above weights or dimensions, don't stress as you can have them checked-in.
Checked-In Baggage
With customer satisfaction being a must, flymango is the only domestic airline allowing passengers to take one or more item of checked-in luggage with a combined total weight of up to 20kgs.
Mango Airline's Fleet
Mango are receiving 2 new B737-800s in August 2013, which will be fitted with a new seating arrangement, offering between 6 & 7.5cm additional legroom. The seats also weigh less, and the design allows the same density of seats currently offered. Up to April 2014, Mango are going to be working on replacing their entire fleet's seats with the new seats. Mango Airlines leases six B737-800 aircraft from its parent company, South African Airways (South African Airways, in turn, leases the aircraft from a leasing company, Gecas, which owns the aircraft). One of the Mango planes has had Brother International branding on it since January 2013.
Mango's fleet consists of 10 Boeing jets: 1 Boeing 737-300 and 9 Boeing 737-800s. The Boeing 737-300 seats 142 passengers, while the 800 seats 186.
When you need to get somewhere fast with excellent service at an affordable price, your only answer is a 'no frills' Flymango flight in one of their Boeing 737-800s. You can save time and conveniently book your ticket at Shoprite or Checkers and if you don't have a credit card, utilise your Edgars charge card. You won't experience unnecessary delays at the airport because this airline has, for the last six years in South Africa, been the most timeous! Mango PLUS and FLEX clients may, with no additional charge, change their scheduled flight. Your cheap Mango flight will leave you feeling more than impressed with the latest addition of added leg-space and superb service. While you're comfortably seated use every moment to catch up with business by connecting to the in-flight Wi-Fi service with a choice of either 30Mb for R29 or 60Mb for R49! Beneficial for the larger passenger requiring two adjoining seats for more comfort, two seats may be purchased with each seat being paid for.
Check-In
For your convenience you can utilize the check-in counters for your flights located in the domestic terminal or simply go online where you can, at the same time, reserve your preferred seat. If you purchased your ticket more than a day before your flight you can make use of the Mango mobi-app. The mobi-app is not available to passengers flying from Bloemfontein and George or to and from Zanzibar and these passengers should check-in online or at the check-in counters. Check-in 'musts' are a valid passport, RSA ID book or your driver's license for proof of identity with minors needing birth certificates or RSA ID books. Passengers that purchased their ticket with their credit card should have that specific credit card with them when checking-in. Passengers requiring assistance or those with children under the age of 16 years may choose any seat except those in the emergency exit row.
DIY check-in for your Mango flight
Pre-flight DIY check-in can be done online:
Choose 'Online Check-in' from the orange box at the top of Mango's homepage.
Enter your identification details in the required fields and click 'identify'.
Complete the process and select your seats from available open spots.
Note:
Online check-in opens 24 hours before departure and closes two hours before scheduled departure
You will need to print out your boarding pass
You will need valid identification to board your flight
You must report to the drop off desk one hour before departure if you have check-in luggage
NB: You will need to present the credit card used to make your booking at the boarding gate – being unable to do so will prevent you from boarding your Mango flight
Special 4-legged Passengers
Allowance is made for service or guide dogs that are secured with suitable safety harnesses to travel with their owners in the cabin and free of charge. The owner should have proof that they are dependent upon their animal. Nothing could be easier for passengers not wanting to leave their pets behind! They must pre-book by contacting the call centre on 086 100 1234, securing the booking for their pet as the cargo hold space is limited to two containers per flight. Payment for your pet must be made at the airport with the only documents required being valid vaccination and health certificates. Your container must be leak-proof and made with fibreglass, polyethylene or metal. The container with your pet may weigh up to 32kgs and should meet all obligatory government requirements for humane and safe transportation.
Feeling Peckish?
Food, snacks and refreshments are available for purchase on board flights. Passengers who just want a nibble while enjoying the view from above have a variety of snacks to choose. Those needing more than a nibble can select a delicious 'Meals Pastry Basket', a 'Filled Croissant' available on all morning flights or a variety of 'Filled Rolls' available on all flights. Not forgetting the younger ones, besides snacks, are nutritious, scrumptious 'Kiddies Filled Rolls'. To retain low-cost airfares and enjoyable flights Mango don't cater for special meal needs but they certainly don't mind if you bring along your own diabetic, Kosher, Halaal or Vegan meal to munch away during your flight. An excellent range of cold beverages is available comprising but not limited to, wines, ciders, beers and spirits including hot beverages of tea, coffee or hot chocolate. PLUS guests are given a voucher to the value of R50 that can be used for snacks and/or beverages.
TMS (Travel Management System)
Mango Flights take into account the amount spent by companies who have members flying on a regular basis and more than often, to accommodate business needs, having to alter their flight times and dates. The airline devised an online 'Travel Management System', meeting particular needs and offering certain benefits to Travel Management Companies (TMC) in order to achieve cost effectiveness in air travel for the corporate sector. Utilizing TMS, Travel Management Companies can, besides additional options, easier manage flight reservations with access to all fares available including regular public fares, have corporate travel cards that alleviate the necessity for passengers at check-in to present their credit cards, save time for regular passengers when booking as their profiles are already loaded into the system. TMS is a definite cost effective tool saving travel bookers money and time!
SAA Voyager Miles
Turn your Miles into smiles gives you the option to conveniently pay for your low-cost Mango flight either in full or part, by using your SAA Voyager Miles. If you're a bit short on Voyager Miles you can pay the balance of your fare by credit card, cash, an Edgars Thank U Account Card or with your Nedbank Greenbacks card. Applicable rules that apply when making use of your SAA Voyager Miles:
SAA Voyager Members can exchange Miles for Mango flights, you will not earn SAA Voyager Miles on these flights;
You''ll need to have no less than 5,000 SAA Voyager Miles to book your Mango flight with Mango only redeeming SAA Voyager Miles in denominations of 500;
Only the base fare for your Mango flight can be paid with your SAA Voyager Miles, with no allowance for airport taxes;
When paying for your Mango flight with SAA Voyager Miles no additional benefits related to SAA Voyager Miles will be applicable such as upgrades, extra baggage or use of lounges.
SAA Voyager Miles are only applicable to online payments;
Standard terms and conditions for SAA Voyager and Mango are applicable.
Mango Airline's Vouchers
Making your cheap air flight simpler is a Mango Voucher that can be utilised as an alternative form of payment for your base fare not including airport taxes or any additional extras.

Additional Payment Options
Mango is the only airline allowing payments via store charge cards. Travellers using their Edcon Thank U Account cards will incur a service fee on the card, but have the choice of repayment instalments and if their ticket is paid for within six months, no interest is charged. Note this method is not applicable for booking flights that are departing within two days. Mango's partnership with Nedbank allows Nedbank's clients to redeem their Nedbank Greenback points that may be used to pay in full their base fare or in part, excluding taxes and extras, with the outstanding amount being paid by credit card. With the partnership between AMEX (American Express) and Mango, travellers can claim their membership rewards via AMEX for a voucher and pay for their base fare, excluding taxes and extras. Should the base fare total more than the voucher, the balance must be paid by credit card. If your vouchers value is more than the cost for your base fare, you'll be issued with a new voucher for the difference.

Making a Mango airlines booking online: 5-step guide
To book mango airlines flight online:
Step 1: Scroll up to Domestic Flights South Africa's flight finder tool at the top of this window.
Step 2: Click in the 'From field' to start typing in your desired departure location and click on the correct auto complete suggestion that pops up. Do the same in the 'to' field.
Step 3: Click on the dates listed under 'Depart date' and 'Return date' to bring up a calendar and scroll to your desired month. Click to select your preferred date.
Step 4: Select from the drop-down lists beneath these fields the number of adults who will be flying and the number of teens (12 to 15 years), children (2 to 11 years) or infants (under 2 years) that will be accompanying you.
Step 5: Click 'search' to see available flights and choose the Mango flight days and times that suit you using the radio buttons next to the corresponding results. This will add each leg to your cart automatically. Then simply follow the prompts to complete your Mango airlines booking.
Achievements
Mango Airlines was this year listed in the top ten ranking of 'Travelmath' as one of the global leaders in low-cost air travel besides being voted the 'coolest' low-cost airline in South Africa in the 'Sunday Times Generation Next Awards'. It also celebrated flying in excess of six million passengers to and from the mother of all cities, Cape Town including five years flying from Lanseria Airport.
Mango Airlines Contact Details
MANGO CALL CENTRE
South Africa: 086 100 1234 International: JNB +27 11 086 6100 CPT: +27 21 815 4100
MANGO E-MAIL
Enquiries: enquiries@flymango.com
MANGO GUEST CARE
South Africa: 086 101 0002
MANGO FLIGHT SCHEDULE CHANGES
South Africa: 086 101 0216
MANGO REFUNDS
South Africa: 086 101 0211 MANGO HEAD OFFICE South Africa: 086 101 0217 Physical Address: Mezzanine Level Domestic Departure Terminal OR Tambo International Airport 1627 Postal Address: PO Box 1273 OR Tambo International Airport 1627
Mango Airlines Route Map
Mango Airlines, South Africa's award winning budget airline that provides direct flights between Johannesburg and Zanzibar continues gaining momentum
read more