Mango Flights from Lanseria to Durban
Book Mango Flights from Lanseria to Durban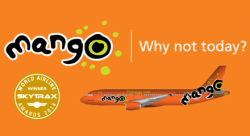 Mango flies to Durban from Lanseria 38 times a week. The flight time for Mango flights from Lanseria to Durban is 1 hour and 10 minutes. Thousands of people opt to fly from Lanseria Airport to some of South Africa's most popular domestic travel destinations. There are many reasons for this, one being that Lanseria offers a more convenient point of departure for many travellers living in Midrand and surrounding areas. Mango Airlines flies many popular routes from this world-class airport, including the Lanseria to Durban route.
Durban is South Africa's third largest city and a key tourist and business destination. Travellers from around the world and from all walks of life visit Durban each year in search of enjoying the famous tropical climate, stunning beaches and coveted coastal atmosphere. Now your journey just became even more enjoyable and accessible with competitively priced Mango flights.
When visiting Durban, you can look forward to enjoying the great selection of leisure activities designed to enthral and entertain visitors from every walk of life. Durban is famous for being a welcoming city. Mango Airlines flies the Lanseria to Durban and Durban to Lanseria route in order to connect more South Africans with this beautiful city.
We have managed to find you the cheapest Mango Airlines flights from Lanseria to Durban by scanning more than 21 million flights over the course of the year. Our data is always updating to keep you abreast of the latest and cheapest flight deals on offer.
Cheapest Mango Flights from Lanseria to Durban One-way
Mango Flights from Lanseria to Durban Return
When Would You Find Mango Flights From Lanseria to Durban
So how do you know who flies from Laseria to Durban and when? Mango Airlines fly this route 16 times a week. Below is a detailed table showing the Mango Airlines times from Lanseria to Durban.
| Airline | Departure | Arrival | Mon | Tue | Wed | Thu | Fri | Sat | Sun | Flight |
| --- | --- | --- | --- | --- | --- | --- | --- | --- | --- | --- |
| Mango(JE615) | 7:55 | 9:05 | YES | YES | YES | YES | YES | YES | YES | JE615 |
| Mango(JE627) | 11:15 | 12:25 | YES | YES | YES | YES | YES | YES | YES | JE627 |
| Mango(JE635) | 16:00 | 17:10 | YES | YES | YES | YES | YES | YES | YES | JE635 |
| Mango(JE639) | 18:25 | 19:35 | YES | YES | YES | YES | YES | YES | YES | JE639 |
| Mango(JE641) | 19:25 | 20:35 | | | | | | | YES | JE641 |
| Mango(JE643) | 20:15 | 21:25 | YES | YES | YES | YES | YES | YES | YES | JE643 |
Book Flights With Mango And Save Today
At Domestic Flights South Africa, we make it easier than ever to book your Mango flights online, anywhere in the world. Oftentimes life doesn't keep office hours and waiting for a travel agent to get back to you with a quote can be quite frustrating. Now you can be your own travel agent and book and secure Mango flights from the comfort of your own home.
We make it so easy to compare airlines and to save time and money with ease. Our online booking service is completely free and offers unmatched convenience. Domestic Flights South Africa has invested heavily in building a user-friendly online platform that puts the power in your hands.
If you want to save money and enjoy air travel on one of South Africa's leading low cost domestic carriers, then book your Mango flights today!
Book your Mango flights from Lanseria to Durban and back again with ease.