Mango Flights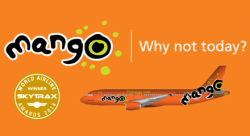 Mango Flights operate new generation, eco friendly Boeing B737-800 aircraft's on all routes, which seats 186 guests. Safe, reliable, friendly and punctual service is non-negotiable! Mango flights are characterized by the bellowing Orange plane which cant be missed, even from ground level.


Mango Flight Bookings
Mango flight bookings is a simple process and has evolved dramatically from having to phone or sit at a travel agent. Nowadays you can simply logon to our website and complete a simple flight booking form within seconds. The resulting display is a list of available Mango cheap flights. The hardest part for you is to choose which of the available flights is best suited to your schedule. One should also be aware that Mango often have flights specials – we will notify you of these as long as you signup to our newsletter.


Best priced Mango Flights is our guarantee to you. We are able to do this by comparing more than 7 million Mango Flights. Some of the amazing flight prices can be seen in the tables below. The best priced Mango Airlines flights are available on the most popular routes which include; Mango flights from Durban to Johannesburg, Johannesburg to Port Elizabeth and Lanseria to Durban.


Cheapest Mango Flights One-way Routes Prices
Prices based on live searches up till 30 Mar 23:59 and are subject to change.
Cheapest Mango Flights Return Routes Prices
Prices based on live searches up till 30 Mar 23:59 and are subject to change.
Mango Flights Seating
Each row has three adjacent seats on either side of the centre aisle. Flymango.com, as they are also known, does not have a seating weight restriction; however passengers requesting two seats will be charged the normal fare for both seats. Seating will be assigned at time of airport check-in prior to flight departure, or online check-in or the Self Service Check-in. Please bear in mind that Mango now allow for preflight seat bookings. For safety reasons, passengers who require assistance, as well as those travelling with infants and children under 16 years, are not permitted to sit in emergency exit rows.


Mango Flights Meals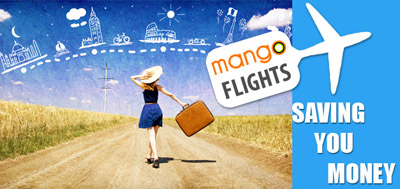 Although Mango flights do not include meals or drinks, they do offer the following food and beverages during the flights namely; water, fruit juice, beer, wine, tea, coffee, sandwiches, muffins, sweets and a kiddies box for the little ones.
Mango Flights G-connect
Mango launched an awesome facility a few months ago called G-connect. Essentially it is a WiFi network which allows travellers access to the internet whilst flying. use it for whatever purpose you desire. Prices range from R50.00 to R250.00.
Mango Flights Infants and Children
Infants sitting on an adult's lap must be older than 7 days and younger than 24 months. Mango Airlines will ask to see the infant's birth certificate. Infant Twins must be accompanied by 2 adults. If a child turns 2 years of age during their trip, a one-way booking must be made for the return flight as the child will no longer qualify as a lap child. Passengers travelling with lap children will not be seated in emergency exit rows. For your safety, no more than 1 child seated on the lap of the adult will be seated in the same row since there are only eight oxygen masks per row.
Mango Flights Pets
Pets are not included in the checked baggage allowance of 20kg per paying Guest and excess baggage charges must be raised, irrespective of any other baggage. The maximum allowable weight per bag is 32kg. Please note that pet fees are only paid at the airport and that the number of pets allowed as cargo is subject to space availability. Please call our call centre on 086 100 1234 to book your pet.
Mango Flights Baggage
Each passenger on a Mango Flight is permitted to carry a free bag with a maximum weight of 20 kg. Mango Plus guests have a generous 30 kg baggage allowance. Infants have a free baggage allowance of 10 kg.
Additional weight will be charged at the current excess baggage rate. No single piece of luggage exceeding 32kg will be accepted for carriage. Carry-on baggage is subject to the following restrictions:
Not exceed 115 cm (56 cm + 36 cm + 23 cm)
In addition to carry-on baggage, you may carry aboard a handbag and overcoat whilst guests with infants seated on their laps, may also carry a small bag catering for the in-flight needs of the infant (i.e. feeding bottles, nappies and medication).
You must not include in your baggage toy guns, cutlery, knives, scissors, syringes, blades, nail clippers or other sharp objects that appears to be/could be used as weapons.
Failure to adhere to the Carry-on baggage restrictions is in violation of CAT-OPS-121 Civil Aviations. If your baggage is lost or damaged on your Mango Flights, please notify a Mango representative at the airport.
Mango Flights Reviews
Review by Phillipa Jerome: "I'm a newbie to the flight scene and was enticed to use Mango flights to fly from Durban to Cape Town to see my family. I managed to get a great deal on domestic flights South Africa's site during the Mango Happy Days Sale. The flight was great. I made use of the on-board snack facility to quench my thirst and appetite. The flight was relatively quick, just under 2 hours and the staff were very friendly and helpful. Thank you to all invloved". Rating 4.5/5
Review by Barry Hunter: "Admittedly I was a tad apprehensive boarding my first Mango flight the other day. Having never flown before I did not know what to expect on board my Mango flights. After enduring the nerve racking take-off I finally settled down and purchased some of the snacks available on the flight. Not the greatest offering but they were good enough to last me the flight from Durban to Cape Town. I would just like to thank Mango for the great service of the staff and the skills of the pilot as I really did not feel any of the dreaded turbulence I was led to believe would make me sick. So, thanks Mango for the great first time flight. Rating: 4.5/5
Review by Mrs Dedekind: "I was most impressed by the flights sale Domestic Flights South Africa recently had and decided to take advantage of the cheap flights and book my family and I on a Mango flight to Durban from Johannesburg for a weekend away. I am most disgusted to have to say that our flight JE259 was delayed by more than 2 hours. I have never been so frustrated. The staff did not seem to really care either with little or no feedback during the entire waiting process. Needless to say I will not be taking any Mango Flights in the near future." Rating: 2/5
Review by Charlize Basson: "Having recently flown using Mango Flights from Durban to Johannesburg, I must admit that I was pleasantly surprised. I usually drive to and fro between the 2 cities but decided this time to take up a Mango Airlines flights special they advertised. The flight was so quick and afforded me an extra day to relax. Thanks to Mango. You will definitely see me soon." Rating 4.5/5
Review by Bill Merson: "We recently boarded a return flight from George to OR. Tambo, Joburg. Booked my window seat online, which was a pleasant experience in itself. The seating is particularly comfortable, given that Mango is a low-cost airline. The planes on both journeys appeared to be brand-new. My seat reclined a little which was great giving me slightly more legroom to make seating comfortable. We arrived early on both Mango flights journeys, just to cap things off nicely." Overall rating: 5/5.