Flights from Johannesburg to Cape Town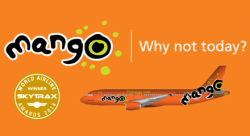 How many times have you had to make last minute travel arrangements? Most of the time your life doesn't keep office hours convenience, and you need to make arrangements on the fly. Phoning travel agent after travel agent to compare flights can be tedious, but it is also impractical in today's day and age where consumers want to be at the helm of their spending. We make it easy for you to take control of your travel arrangements and find the best rates available.
Why should you choose Domestic Flights South Africa to book your Mango fights? We have thought long and hard about what it is our users want, and how we can offer it to them more conveniently. We make it as easy as possible to search, compare, book and save on Mango flights. Best of all is that it is completely free. You don't pay any travel agency fees or commissions and you will get the best value for money.
What's more, we make it so easy to compare all airlines instantly. Save time and money and become your own travel agent. There's also no need to wait for business hours to come around before you can secure your Mango booking. Wherever you have an Internet enabled computer or device, you can log on to our site and book with Mango 24-hours a day, any day of the week.
As we all know Mango Airlines offer some of the cheapest flights between Cape Town and Johannesburg. We scan millions of these flights annually and guarantee the cheapest. You can see some of the cheapest options in the table below as booked by our customers.
Cheapest Mango Flights One-Way Between Johannesburg and Cape Town
Prices based on live searches up till 30 Mar 18:00 and are subject to change.
Cheapest Mango Flights Return Between Johannesburg and Cape Town
Prices based on live searches up till 30 Mar 18:00 and are subject to change.
Get More From Booking Mango Flights With Domestic Flights South Africa
We have invested heavily in developing a beautiful and user-friendly online shopping portal. With a safe and simple checkout procedure, you can book and confirm your Mango flight within minutes. Mango's Johannesburg to Cape Town route remains one of their most popular routes, and with good reason.
Now you can make your air commute more convenient and affordable by booking Mango Airlines flights through Domestic Flights South Africa. For South African travellers from all walks of life, Mango Airlines remains one of the most popular airlines. They are always launching many specials that appeals to their travellers, and that makes the commute between Johannesburg and Cape Town more luxurious and convenient.
Book your Mango Flights through Domestic Flights South Africa today and save money and time.