Johannesburg is the biggest city in South Africa and a hugely attractive destination for national and internationals visitors.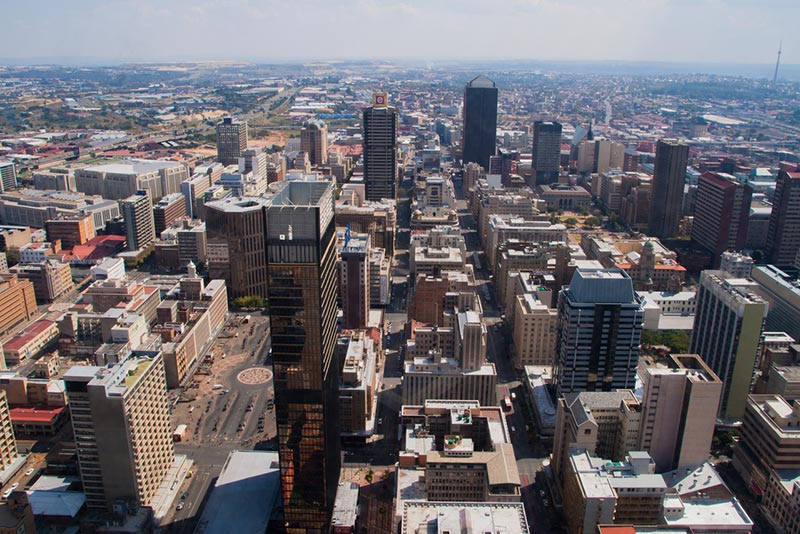 There are many reasons for visiting this big, interesting city but when is the best time of the year to do so? The truth is that every season has got a lot going for it.
Johannesburg in the Summer for Warm Temperatures
The summer months here are typically classed as being from October through to April. This time of year is when Johannesburg is at its hottest during the day.
The summer evenings are somewhat cooler and there are often thunderstorms in the afternoons. If you are coming from a cold climate then you shouldn't find the temperatures too high in summer.
This is because the city's altitude of 1,753m (5,751 ft.) keeps it somewhat cooler than other similar cities found at lower altitudes.
The highest temperatures of the year are in January, when it tends to vary between an average low of 14.7 degrees Celsius (58.5 Fahrenheit) and an average high of 25.6 (78.1). This is also the month with the highest rainfall, with 125mm (4.92 inches) the average.
One point bearing in mind is that the UV Index in this city can get very high in summer, reaching up to 16 at times. Using sun cream or staying indoors or in your hire car during the times when the sun is at its strongest.
October and November are recommended for anyone who likes the weather to be nice but not too hot. At this time of year the vegetation is starting to grow as the first rains of the season should have fallen by now.
Those travellers looking for warmer weather could wait until December or January. Don't forget that malaria tablets are often among the medical recommendations for visitors in the rainy season.
Johannesburg in Winter for Clear Skies
Winter is classed as being May through to September in this part of the world. This is when Johannesburg as at its coolest, although it is also when you are most likely to see a lot of sunshine due to the clear skies and lack of rain.
June is the coldest month in the city. At this time of year the average high is 16.0 degrees Celsius (60.8 Fahrenheit) and the average low is 4.1 (39.4).
The winter temperature sometimes dips below freezing during the night although snow is extremely rate.
Animal Viewing
A lot of visitors come to Johannesburg to view the animals at the nearby safaris. This is a fantastic trip that can be enjoyed at any time of year, so it really comes down to personal preference.
Many people suggest that winter is the best time to go on a safari. This is because the vegetation is less dense and the waterholes typically more crowded at this time of year, meaning that it is easier to spot animals.
However, the summer months also have some advantages. In these warmer months you can see beautifully lush vegetation, newly born animals, summer migrant birds and waterholes brimming with life.
Johannesburg Peak Tourist Season
Johannesburg is a city that people visit all year round, so there is no real peak tourist season as such. Having said that, December and January can be busier due to the local school and university holidays.
It is also a popular destination at Easter time, when hotels prices can get a bit higher than normal. This is also the case around Christmas and New Year.
Otherwise, tourist numbers are spread pretty evenly throughout the year. Givens the city's suitability as a year-round destination many people simply decide to go whenever they have the free time to do so, rather than by focussing on a certain time of year.
Johannesburg Festivals and Events
This is a terrific city to visit if you want to see some top class festival and events. For example, September is when the Arts Alive Festival, Soweto Wine & Lifestyle Festival and Joy of Jazz Festival all occur.
The popular FNB Dance Umbrella runs for three weeks from the end of February through to March. A number of other great events are dotted throughout the year, so it makes sense to check out the current list of festivals to see which ones grab your attention.
There is no doubt that Johannesburg is a vibrant and fascinating city that it is worth visiting at any time of year. Once you decide when you want to come here just check out our current deals to see how easy and affordable it is.