Fly Between Johannesburg and George with Mango Airlines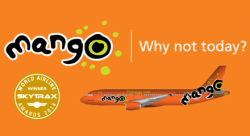 George forms an integral part of South Africa's vibrant tourism sector. This beautiful city remains one of the most popular tourism destinations in South Africa, and with good reason. Millions of tourists and travellers visit George each year to experience the sheer brilliance of South Africa's wild and untamed beauty. Making allowances for the vast number of visitors to this beautiful city is airlines like Mango Airlines.
Now you can travel between Johannesburg and George with ease thanks to Mango Airlines offering frequent flights on this popular route. Don't ever settle for anything less than the very best. Make the most of your vacation and start it off right by booking Mango flights from Domestic Flights South Africa.
At Domestic Flights South Africa, we have worked hard to provide our valued users with affordable and convenient flights on all of South Africa's most popular domestic routes. With Mango Airlines, you can look forward to modern fleets, excellent customer care, competitive pricing and a world class overall service. Why settle for anything other than the very best?


With more than 6 million Mango Flights scanned between Johannesburg and George, we are able to offer you the best priced flights. The table blow shows you the cheapest Flymango flights between Johannesburg and George found by our customers.


Cheapest One-way Mango Airlines Flights from Johannesburg to George
Prices based on live searches up till 30 Mar 23:59 and are subject to change.
Cheapest Return Mango Airlines Flights between Johannesburg and George
Prices based on live searches up till 30 Mar 23:59 and are subject to change.
Choose Mango Airlines For Affordable Flights Between Johannesburg And George
Mango Airlines goes the extra mile to provide their passengers with the best on board, mid air experience. With delicious and fresh snacks and refreshments available for purchase on board, and Wi-Fi solutions available, you can enjoy breakfast or lunch and stay connected with the world during your flight.
These are only a few of the ways that Mango Airlines is always working hard to raise the bar of excellence even further. When you book with Mango Airlines through us, you are in the driver's seat and get to choose when you fly. There is no middleman. With greater convenience, 24-7 availability and a user-friendly online shopping experience, you can find the flights you want, whenever you want.
Become your own travel agent and find the best fares at the best rates and make your trip memorable for all the right reasons!
Book your Mango flights with Domestic Flights South Africa today!