Flying Johannesburg to Durban is Easy With Mango Airlines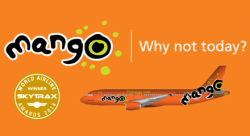 Durban is South Africa's third largest city and continues to attract business and leisure travellers from all over the country and the world. With its beautiful beaches, world class coastal atmosphere and enviable tropical climate, the city remains popular among tourists from all walks of life. Many people choose to book with Mango Airlines to reach Durban from Johannesburg.
At Domestic Flights South Africa, we work hard to provide our users with an easy and interactive online portal to book and confirm Mango flights with ease. Our service is completely free to you, and saves you both time and money. Now you can become your own travel agent and confirm travel arrangements at any time of the day. Finding the best Mango flights is now easier than ever.
Why Choose Mango Airlines For Flights Between Johannesburg And Durban?
Mango Airlines remains the leading low cost airline in South Africa. It is owned and operated by South African airways, and is a trailblazer in its industry. With extensive routes throughout South Africa, there are Mango flights daily, helping millions of South Africans get where they're going every year.
Passengers who enjoy comfortable flights and excellent value for money choose to book with Mango airlines because of the great customer care and quality on board experience. This airline also puts great value on providing passengers with industry leading deals and promotions.

Check out some of the amazing deals we find for you during the year on Flymango, or Mango, flights from Johannesburg to Durban. We do this by scanning millions of flights and finding the best deals on your behalf.
Cheapest One-way Mango Airlines Flights from Johannesburg to Durban
Prices based on live searches up till 30 Mar 23:59 and are subject to change.
Return Mango Airlines Flights from Johannesburg to Durban
Prices based on live searches up till 30 Mar 23:59 and are subject to change.
With already competitive pricing on domestic flights, you can travel between Johannesburg and Durban with ease, knowing you are getting the very best value for money when booking with Mango airlines. You can always look forward to the best prices along some of the most popular domestic routes.
Whether you are a family travelling together on your holiday or a business traveller looking for affordable air travel solutions, Mango Airlines is your first option. Never pay more for airfare between Johannesburg and Durban again.
Book with Mango Airlines today, and save on time and money. Get more value for money and enjoy air travel again with Mango.