We compare all airlines instantly
It's completely free
Save time and money
Become your very own travel agent
Mango Airlines is a low cost airline based in South Africa and owned by South African Airways. Mango Airlines was South Africa's first low cost airlines being brought into operation on 15th November 2006. Mango airlines are used extensively by South African passengers who enjoy comfortable flights at great prices.
For many passengers, Mango Airlines is definitely the one of the most popular choice of airline, continually launching many specials which appeal to the average traveler. These specials included the popular R1 fare, as well as a bustling daily lunchtime Happy Hour session during the month of June. Since its inception, Mango Airlines has become a firm favourite with the travelers of South Africa across all races, ages, and income brackets.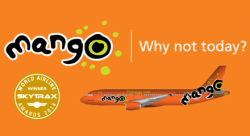 With Mango Airlines you experience simply what you require – a ticket to catch a plane that is going to take you to where you essentially want to go. However what Mango Airlines also offers is extremely competitive pricing on domestic flights which basically ensures that you are never paying too much for nothing more than a quick little cheap mango flight to Cape Town or a visit to family in Johannesburg. Aside from offering some of the most competitive prices out there, Mango Airlines also offer some of the best prices moving along some of the major airline routes, so that if you're just a simple businessman who's just looking to move between Cape Town and Johannesburg a couple of times a month, then this is definitely the airline you want, at the price they're offering.
Mango Airlines Contact Details
MANGO CALL CENTRE
South Africa: 086 100 1234 International: JNB +27 11 086 6100 CPT: +27 21 815 4100
MANGO E-MAIL
Enquiries: enquiries@flymango.com
MANGO GUEST CARE
South Africa: 086 101 0002
MANGO FLIGHT SCHEDULE CHANGES
South Africa: 086 101 0216
MANGO REFUNDS
South Africa: 086 101 0211 MANGO HEAD OFFICE South Africa: 086 101 0217 Physical Address: Mezzanine Level Domestic Departure Terminal OR Tambo International Airport 1627 Postal Address: PO Box 1273 OR Tambo International Airport 1627
Mango Airlines Baggage Restrictions
Each traveller has a free baggage allowance of 20 kg. Mango Plus guests have a generous 30 kg baggage allowance. Infants have a free baggage allowance of 10 kg. Additional weight on Mango flights will be charged at the current excess baggage rate. No single piece of luggage exceeding 32kg will be accepted for carriage. Carry-on baggage is subject to the following restrictions:
Not exceed 115 cm (56 cm + 36 cm + 23 cm)
Not exceed one bag at 7 kg's.
In addition to carry-on baggage, you may carry aboard a handbag and overcoat  whilst guests with infants seated on their laps, may also carry a small bag catering for the in-flight needs of the infant (i.e. feeding bottles, nappies and medication).
You must not include in your baggage toy guns, cutlery, knives, scissors, syringes, blades, nail clippers or other sharp objects that appears to be/could be used as weapons.
Failure to adhere to the Carry-on baggage restrictions is in violation of CAT-OPS-121 Civil Aviations  If your baggage is lost or damaged, please notify a Mango representative at the airport.
Mango Airline's Fleet
Mango are receiving 2 new B737-800s in August 2013, which will be fitted with a new seating arrangement, offering between 6 & 7.5cm additional legroom. The seats also weigh less, and the design allows the same density of seats currently offered. Up to April 2014, Mango are going to be working on replacing their entire fleet's seats with the new seats. Mango Airlines leases six B737-800 aircraft from its parent company, South African Airways (South African Airways, in turn, leases the aircraft from a leasing company, Gecas, which owns the aircraft). One of the Mango planes has had Brother International branding on it since January 2013.